Welcome Message
Upholding the vision of "becoming a globally respected, trusted and influential international investment holding group that builds leading enterprises across industries", Legend Holdings takes value discovery and creation as our due responsibility to shareholders. By leveraging and reinforcing the unique two-wheel-drive business model, along with our cutting edge of value enhancement, we strive to realize sustainable value growth. As a diversified investment holding company, we are fully aware that the realization of our long-term value depends on the support and recognition from capital markets and our shareholders.
Alongside the listing of Legend Holdings, we remain focused on and committed to upholding sound corporate governance with candid and efficient system to protect long-term interests of our shareholders and create enduring value. Our investor relations team aims at facilitating communications between the company and shareholders through, among other means, regular meetings with investors, corresponding with media and shareholders, and disclosing relevant information in a timely and appropriate manner.
In all cases, prudent consideration is taken to ensure that price sensitive information is not disclosed selectively. When announcements are made through the Hong Kong Stock Exchange, the same information will be made available on Legend Holdings' website.
Stock Quote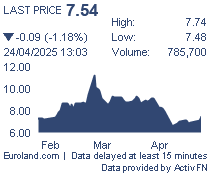 Event Calendar